Makerspaces run a community workshop, with access to many tools and equipment, including CO2 laser cutters and CNC machinery. We need your company to become our sponsor to help cover our operating costs, including our rental cost, which unexpectedly increased by 312.5% this April, 2023. We are a not for profit incorporated association established in 2016. We are run by a dedicated group of volunteers.
Benefits in being our sponsor
As a thank you for your support we will strive to bring your brand value through multiple measures, including:
Display of your chosen logo

on our website Supporters Page
time shared with other sponsors on our digital sign in the Makerspaces Room.

Opportunity to make a bid to reserve naming rights for our tools and equipment zones.

Red Laser Cutter
Blue Laser Cutter
1.5 kW 4 axis CNC mill (6090)
PocketNC 5 Axis CNC Mill
Electronics Area
3D Print Zone
Metal Working Zone: Lathe, Bench Drill and Metex DM45 Turret Mill with DRO, horizontal power bandsaw.
Workbench and Hand Tool Zone

Recognition of your nominated person/s (up to 2) as members of the space. Including:

access to the space at our designated open events.
access to tools, machinery and equipment, subject to usual policies of the space.
and other membership benefits.

We will make you a small personalised keepsake as a thank you.
Voting rights
Kept in the loop of group activity.

Invitation to our Slack and Messenger groups.
Emails to our members about hapenings.

Periodic shout outs on our social media.
We are negotiable and will consider all reasonable requests and negotiate your needs as we establish our partnership.
Visitor Data
You may be curious about our viewer data, physical visitor data, who engages online, a brief summery of this information is presented here. Our growth in all forms since incorporation has been organic, our following allows us to continue building our audience. Early analytics from google indicates that 76% of the visitors are originating from within Australia.
Onsite visitors to our physical space
Our workshop is visited by many people each month, in 2019 we started maintaining a paper based visitor sign in register, this process was converted to a bespoke sign in system and all historic data entered into this system, this enabled the production of the following data.
The open event data recorded and reported occurred between 6th of April 2019 and 18th of April 2023.
60 Repeat visitors
185 Distinct Visitors
1265 Visits to the space
264 open events (opportunities for visitors to attend the space)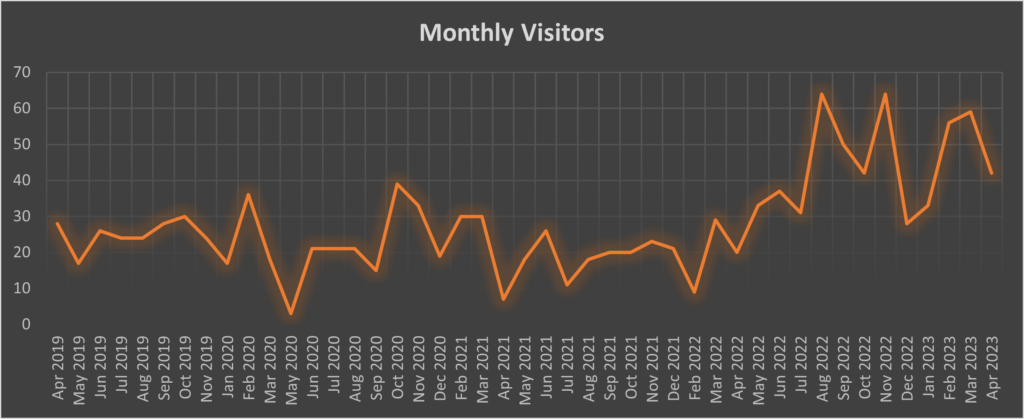 Website
Our website http://www.msmky.org was established in March of 2018, the primary landing page in the old website has received 462,429 visits from the internet.

this content is currently being migrated to our new website. We have commenced using google analytics on our new website to monitor visitor engagement and are happy with our growth.
Facebook
As at April 2023, Our online Facebook Community Page has a reach of 3418 (The number of people who saw any of your posts at least once. Reach is different from impressions, which may include multiple views of your posts by the same people. This metric is estimated by Facebook systems).
And our engagement rate is 558 (The number of reactions, comments, shares and clicks on your posts).
TikTok
Love it or Hate it, we are also trying to follow current social media trends, this appears to be where the current viewership has migrated to,
A recent video on TikTok relating to locating the Makerspace gained 1400 views within 24 hours of initial post. We will be producing more videos for this platform to develop growth and awareness of our offerings and purpose.

Corporate Advertising Membership Costs
We have 2 plans for you to choose for registration, a 6 month plan and a 12 month plan, the costs as well as the ability to initiate a signup are found on our membership portal.
When you sign up, we will review the compatibility of your brand with our ethos and that of our exiting partners, should your brand be compatible we will manually raise a correctly formatted paid invoice and electronically forward it to you for your cost management procedures. Your chosen term will commence once we have uploaded your story/logos to our onsite and online digital systems.
We have multiple payment options available, including onsite EFTPOS (Visit us).
Questions?
Visit us, see what we are about on one of our public open events.
Read more

: Become a Sponsor of Makerspaces Mackay